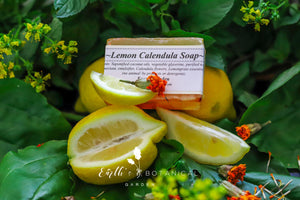 Deep cleanse the face and skin with our family-made herbal Lemon Calendula Soap. This soap has healing and deodorizing properties and serves as an effective antibacterial and antifungal agent. Made with calendula flowers, essential oils, and coconut oil that will assist with irritation, rashes and breakouts. 
Ingredients: Coconut Oil, Vegetable Glycerin, Water, Emulsifier, Fruit Humectant, Calendula Flowers, and Lemongrass Essential Oil. 
Suitable for all skin types. All-natural derived ingredients. Cruelty-Free. Vegan. 
NOTE: This product contains Coconut Oil. To be safe, please do a small patch test before using it on sensitive areas of the body.  
Calendula Soap
Yes I'm loving my soap I only use it on my face .It's silky and smooth and moisturizing.
Love this soap
This soap has a nice smell. I love it.