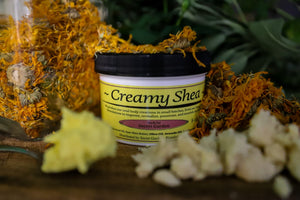 Our SG's Creamy Shea Body Butter is made with high-quality olive and avocado oil and premium raw shea butter. This body butter is designed to be a special all-over cream and is packed with vitamins and antioxidants that will boost collagen and leave your skin with a healthy glow. 
Ingredients: Sustainable Palm Oil, Raw Shea Butter, Olive Oil, Avocado Oil, Comfrey Herb, and Skin-Safe Fragrance. 
- Suitable for all skin types - All-natural derived ingredients - Cruelty-free
Packaging Note: Our 1oz and 4oz labels are different from the picture, this picture is our 8oz jar labels. 
She knew actually what I needed and I very much appreciated the love
Never disappoints
This is my hands down favorite body butter. I need a subscription for this one at this point. I'm just saying.
Bomb.com
I loveeeeeee this shea butter..This leaves my skin shinning and smooth. Definitely recommend this product
Smells Amazing
The product smells amazing and goes on so smoothly. I ordered the Creamy Shea Shea and also received the JP Milk & Honey!! Thank you my skin is so soft.
Amazing!!!
This product has changed my life. My skin is so dry and flakey or was! Since using this my skin is hydrated, healing, and no longer painful. It's a miracle in a jar!