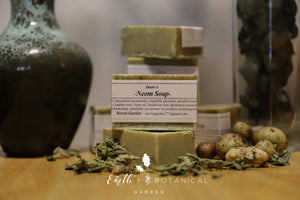 Our Neem Soap is made to help treat acne, breakouts, dried skin, and many other skin problems. This vegan soap can also be used to brush your teeth as it is made with refreshing healing ingredients like peppermint, comfrey root, and spearmint. 
Ingredients: Coconut Oil, Vegetable Glycerin, Water, Neem Powder, Comfrey Root, Neem Oil, Dandelion Root, Fruit Humectant, Emulisifer, Spearmint Essential Oil. 
Suitable for all skin types. All-natural derived ingredients. Cruelty-Free. Vegan. 
NOTE: This product contains Coconut Oil. To be safe, please do a small patch test before using it on sensitive areas of the body. 
I love her products
Everything I have purchased it amazing. I love the products. The Neem soap smells so good. My skin is sensitive and I use it on my face. No breakouts. I love it
Still in used
I love the smell and the size.. it's feel good.. I just got this shower with it 12:46 pm 3.29.22