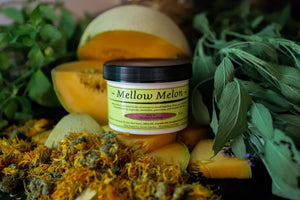 Our SG's Mellow Melon Body Butter is made with high-quality olive, avocado oil,  premium raw shea butter, and cucumber extract. This body butter is designed to be a special all-over butter and is packed with vitamins and antioxidants that will boost collagen and leave your skin with a healthy glow. 
Ingredients: Raw Shea Butter, Soja Seed Oil, Olive Oil, Avocado Oil, Cucumber Extract and Skin-Safe Natural Fragrance. 
- Suitable for all skin types - All-natural derived ingredients - Cruelty-Free 
Packaging Note: Our oz labels are different from the picture, this picture is our 8oz jar labels. 
I will buy it again and share it with others
SG's Mellow Melon Body Butter
OMG!!!
Very happy I found this site. I purchased a tiny jar at a Juneteenth festival. I won't be without it. Creamy, softening, and I love the smell
Amazing product!
Leaves my skin smooth and silky without feeling greasy and smells amazing!