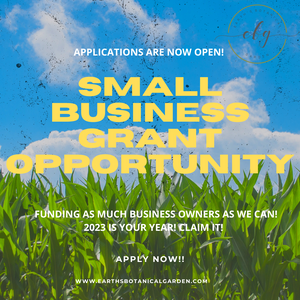 Earth's Botanical Garden is accepting applications for our Small Business Grant Opportunity! 
If you are looking to start a business or already have a business and could use funds for inventory, business registration and other business needs, apply to our Small Business Grant Opportunity. 
Application Process: Secure your entry (multiple entries allowed) and submit a brief summary of what the funds will be used for and how it can help you in your business venture. In your summary, we will need the name of the item(s) you need and the estimated cost of each item as part of your asking budget. 
In addition, be sure to include your TikTok handle name, legal name, phone number and your business name in the brief summary. Please note that you must be following us to be eligible for grant. Email brief summary to: Earthsbotanicalgardenn@gmail.com, 
Our goal is to help as much Business Owners as we can, so grants may include buying items needed and shipping directly to business owners, handing funds to purchase items based on the budget provided, assisting business owners with start-up resources. etc. 
It is time to level up and we are here to help you! 2023 is your year! Secure it!!! 
Good Luck! 
Note: Due to the nature of this item there will be no refunds. This is a Small Business Grant Opportunity and investment does not guarantee you a grant winning. All application materials are needed before a decision is made. If the brief summary is missing you will forfeit your opportunity.