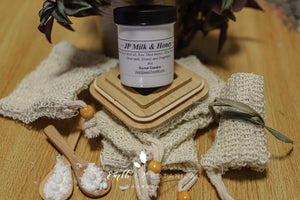 This milk and honey body butter has a creamy luxurious consistency that works wonders for the skin. The creamy finish from the added goat's milk gives nourishment to the skin, helps with redness in the skin, breakage and so much more. This butter is an overall skin soother and nourisher and has excellent antioxidant properties from organic honey and other herbs. Join the experience and grab this healing butter today! 
Ingredients: Soja Seed Oil, Raw Shea Butter, Olive Oil, Avocado Oil, Goat's Milk, Honey, skin-safe Fragrance. 
All-natural. Cruelty-free. Halal. Kosher.