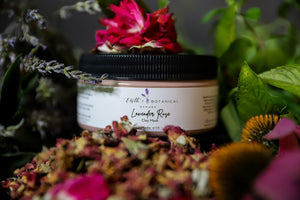 Pamper yourselves with our luxurious Lavender Rose Clay Mask that brings relaxation and nourishment to your skin with a hint of all-natural lavender and fresh rose essential oil, rose clay, and a complement of poppy seeds for deep pore cleansing and exfoliating properties. Our rose clay-based facial mask is loaded with gentle oil-absorbing properties that leave your skin feeling refreshed, restored, and rejuvenated. 
This mask helps with adding necessary nutrients to the face and body, revives skin from any traumatic experiences such as pore enlargement, dryness, and irritation, and works to remove any pimples and marks from the skin along with smoothening the skin. 
Ingredients: Rose Clay, Kaollin Clay, Purple Clay, Lavender Flower Powder, Rose Petals, Sunflower Oil, Grapeseed Oil, Castor Oil, Andiroba Oil, Lavender Essential Oil, Fresh Rose Essential Oil, All-natural Preservative, Vegetable Derived Polawax NF, and Emulsifier. 
Shelf Live: Approx. 3 months 
Suitable for all skin types. All-natural derived ingredients. Cruelty-Free 
I love this mask
I love this mask. It works really good on my face and I love anything lavender. Definitely will be ordering again soon.
I absolutely love this mask!
If you want to turn your home into a spa day, get this mask. It made my skin so smooth, and glowing. I love it.