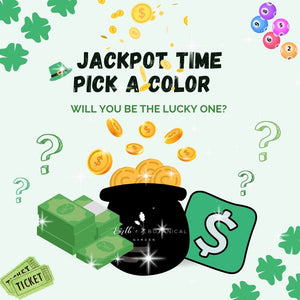 It's jackpot time!!! Are you ready to jackpot and WIN big? Luck up and be the winner of amazing prizes featured in the live stream! Triple up on your chances, the BALL will be in your court! 
If your ticket is selected, you have the opportunity to choose your jackpot by picking a color! Each ball has a different prize and YOU get to determine what prize you will take home! 
Are you nervous? Excited? Join us tonight!!!!!! GOOD LUCK! 
NOTE: Due to nature of items, there will be no refunds. This is a lottery and winning is not guaranteed. Winner must pay to ship prizes and must be present in live to redeem prize. 
Appreciation
I'm excited and can't wait and I appreciate everything you do ❤️❤️❤️
June Jackpot Live - Pick a Color!
👀
I'm sorry I didn't see her come live for the Mother's Day give away. I like pink or red
Mother's Day Jackpot Live - Pick a Color!
Pick a Color Jackpot
I am so happy for my win and can't wait to receive my Guess Purse I won. I really like the raffles and scoops. Keep up the great work. A happy customer.😊