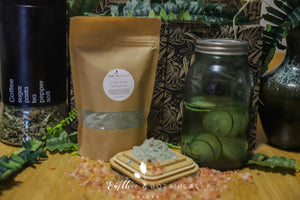 This is our Cucumber Seaweed Milk Bath Salts that is made with organic coconut milk powder for a smooth silky bath. Made with cooling Cucumber Oil, Epsom Salts, Ginger and Mint herbs. The bag says 8oz but we give you 12oz! 
Ingredients: Epson Salt, Dead Sea Salt, Himalayan Salt, Peppermint Powder, Spirulina Powder, Chamomile Flowers, Cooling Cucumber Oil, Eucalyptus Essential Oil, Sodium Bicarbonate, and Organic Coconut Powder Milk. 
Vegan. Natural. Cruelty-Free. Halal. Kosher.