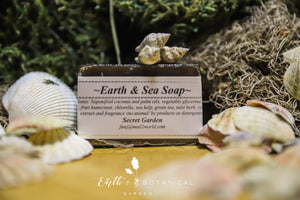 Our Earth and Sea Herbal Soap is created with natural herbs from the earth and minerals from the sea that brings out the perfect balance in your skin.
This soap is perfect for most skin types, it hydrates the skin, cleanses the pores and helps with collagen and skin flushness. 
Ingredients: Coconut Oil, Sustainable Palm Oil, Vegetable Glycerin, Purified Water, Fruit Humectant, Chlorella, Sea Kelp, Green Tea, Tulsi Herb, Cucumber Extract, and Skin Safe Fragrance. 
All-natural derived ingredients. Cruelty-Free. Vegan. Halal. Suitable for Most Skin Types. 
Fast shipping
Items came in very fast and the packing was great and items were awesome. Highly recommend.