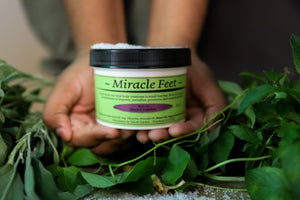 Mircle Feet Rub - Restore and treat your feet or body with SG's peppermint and neem-infused rub. This cream is made with peppermint and neem oils which are invigorating and have anti-fungal properties. Grab a jar today, as this cream will give your feet the sole they need to shine and keep pushing! 
Ingredients: Sustainable Palm Oil, Vegetable Glycerin, Avocado Oil, Neem Oil, Peppermint Essential Oil. 
Suitable for all skin types. All-natural derived ingredients. Cruelty-Free. Vegan. 
Packaging Note: Our 4oz labels are different from the picture, this picture is our 8oz jar labels. 
Miracle feet
I love this food rub it makes my feet so soft and I feel relaxed after I use it 10/10 recommended
Amazing 🙏🏼
Thanks so much I love it ❤️
Happy Feet
I bought this cause my friend won't stop taking about it. She was right. My feet are very happy.